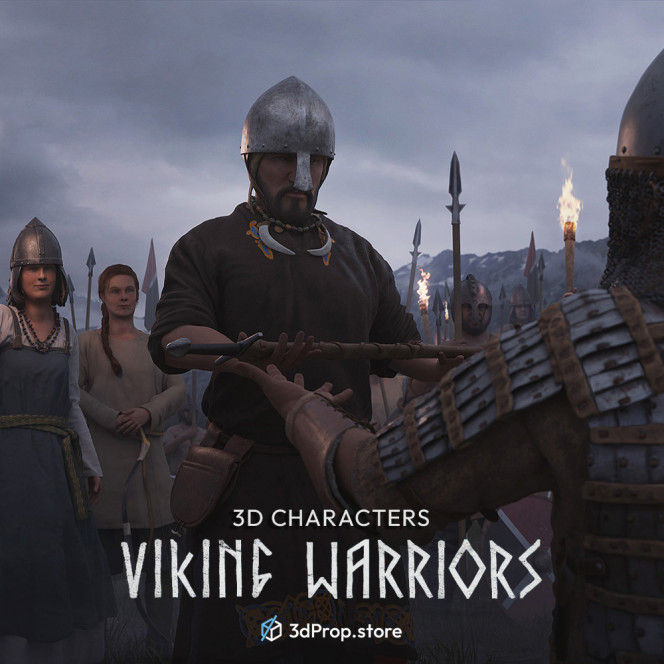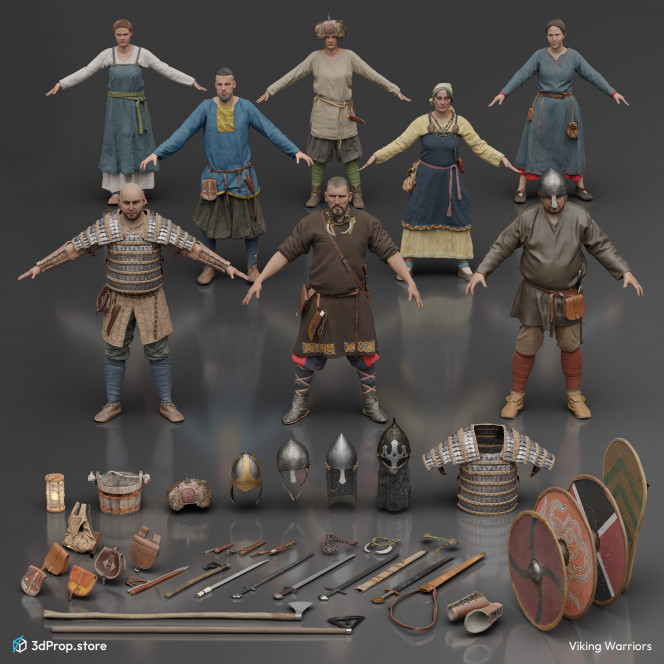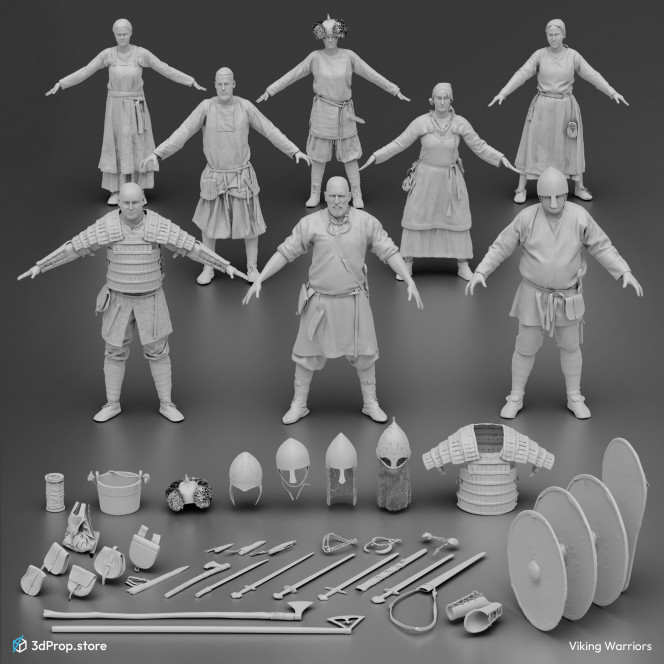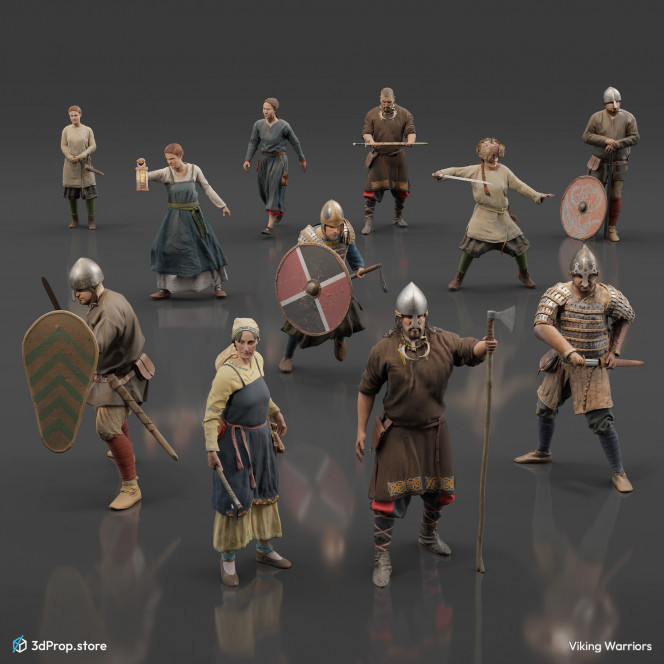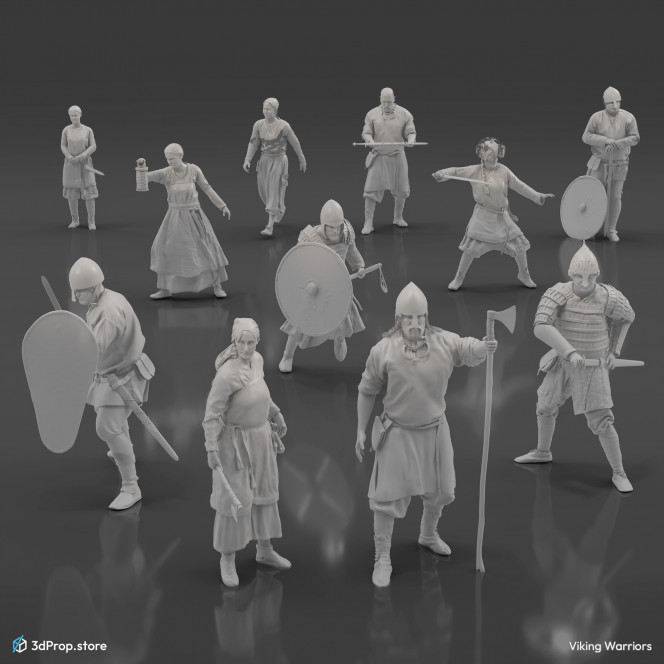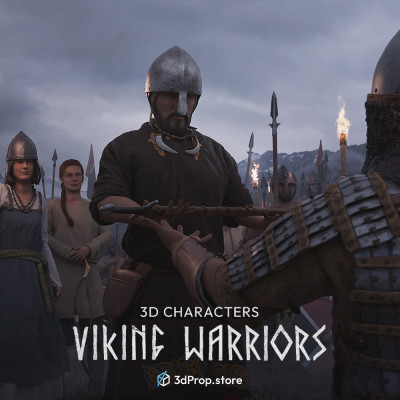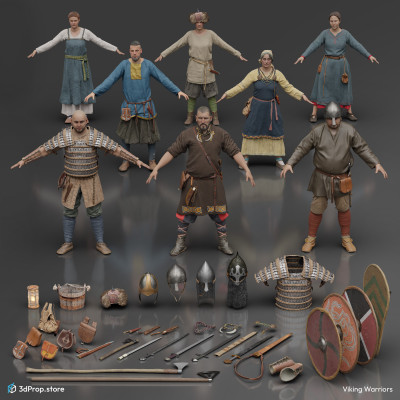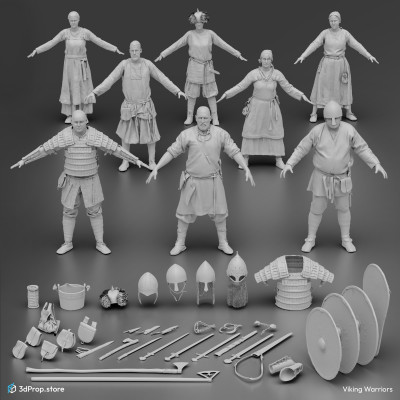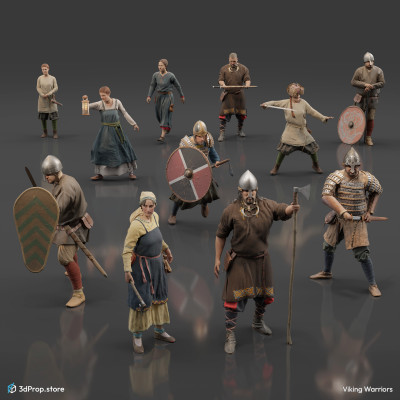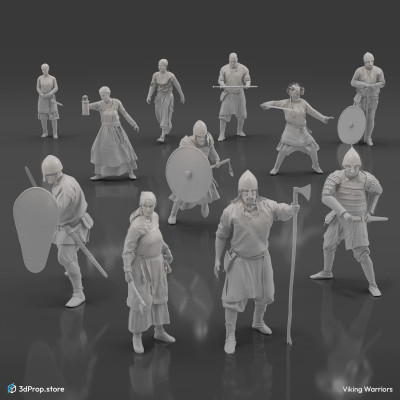 Viking warriors - 3D characters
Description
This bundle includes weapons, accesories and  19 characters in outfits that were typical for viking men and woman in the 10th or 11th century.
8 characters are in A-posture and 11 characters in different poses.


Vikings is the modern name given to seafaring people originally from Scandinavia (present-day Denmark, Norway and Sweden), who from the late 8th to the late 11th centuries raided, pirated, traded and settled throughout parts of Europe.
According to custom, all free Norse men (and often woman too) were required to own weapons and were permitted to carry them at all times. These arms indicated a Viking's social status: a wealthy Viking had a complete ensemble of a helmet, shield, mail shirt, and sword.
General information
The cover art of the bundle serves as inspiration and may include items that are not part of the pack - the exact items included are showcased on the inventory image and listed in the 'Included in this pack' section.
Our bundles contain an array of 3D assets around a specific theme. 
In this costume mini pack there are several characters that are consistent with the described era. To make these curated packs as historically authentic as possible, we collaborate with museum curators and historical reenactors.
Purchasing a bundle will allow you to download each included asset maximum 3 times. The assets will appear in your profile individually and you will be able to track your available downloads in your profile's Downloads menu.
Technical specification
Generally all 3D assets within this pack include the following:
3D formats: .fbx, .obj, .blend
Texture sets in 8bit .png format:
› Base Color in 1K, 2K, 4K
› Roughness in 1K, 2K, 4K
› Normal in 1K, 2K, 4K (optional per asset)
› Metalness in 1K, 2K, 4K (optional per asset)
› Opacity in 1K, 2K, 4K (optional per asset)
(PBR Metallic workflow used to make the textures)
› Rig not included
› All our .blend files are marked as assets for easier use in Blender (3.0+)
› All our 3D props contained in the downloaded Blend files are marked as assets. It makes working with them easier and more visual through Blender's Asset Browser (supported from Blender version 3.0).
Most loved singles from this pack
Each scans which are in the bundle
You may like...
Recommendations based on your interest in this asset